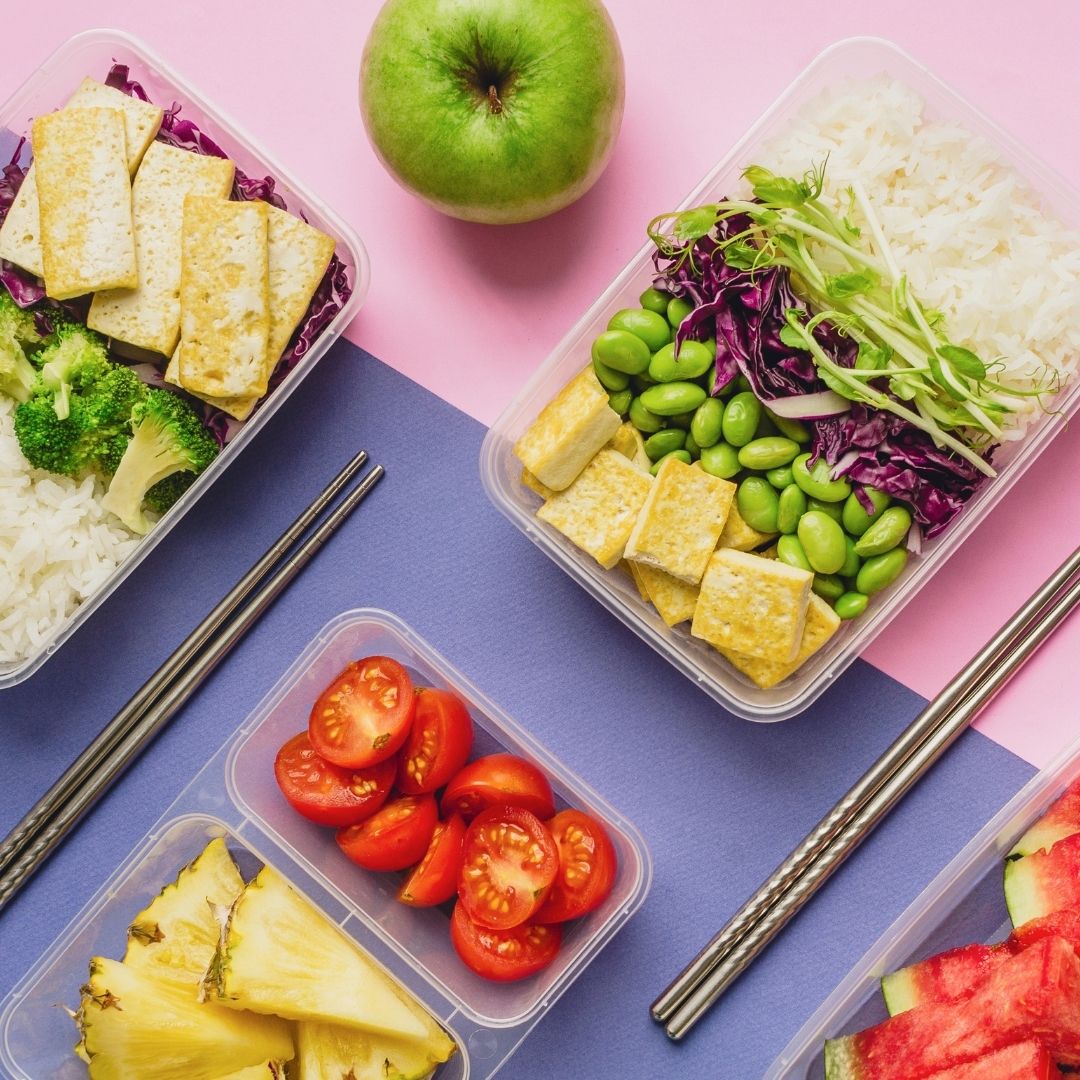 by Laura Reilly, MSc Food, Nutrition & Health
There are numerous reasons why we should aim to include more plant-based foods in our diet. The increase in nutrients such as vitamins, minerals and fibre are all beneficial for our heart health (1). Plant-based diets are particularly good for gut health and for increasing the diversity of our microbiome. (Check out our previous blog post on how to eat for a healthy gut microbiome here!) Not to mention the environmental benefits of consuming less animal-based foods.
Choosing to eat more plant-based foods doesn't mean you have to follow a strict vegetarian diet or vegan lifestyle. It isn't necessary to put a label on the type of diet you choose to follow – making small changes are great and will be more maintainable in the long run. Whether you are looking to include more plant-based foods in your diet for your health, the environment or for ethical reasons – here are some tips to get you started:
Understand the impact of your food choices on the environment
A report on "Climate Change and the American Diet" revealed that about half of Americans said they would be willing to eat more plant-based foods if they had more information about the environmental impact of different foods (2). Similarly, research by Chatham House found that less than 30% of people they surveyed across 12 countries believed that meat and dairy production was a major contributor to climate change (3)
Perhaps understanding the below may encourage you to make some plant-based swaps in your weekly shop.
Did you know that:
Animal-based foods have much greater environmental consequences than plant-based foods (2-5).
Meat and dairy production are the joint fourth biggest contributor to climate change (3)
The production of livestock generates the highest levels of greenhouse gas emissions (4).
The production of fruit and vegetables generates the lowest levels of greenhouse gas emissions (4).
Meat from ruminants such as beef, sheep, and goat is the most resource-intensive food. They require over 20 times more land and generate over 20 times more greenhouse gas emissions than pulses, per gram of protein (5).
Meat and dairy require more land and water than plant-based foods (5).
Pulses, fruits, vegetables, and vegetable oils are more resource-intensive to produce than sugars and staple crops due to the amount of produce they yield, but they are still more favourable than meat, dairy, and farmed fish (5).
Choose plant-based snacks
If you are grabbing a snack to have on your coffee break or between meals, why not opt for a plant-based one? This may look something like:
Apple slices with crunchy nut butter
Hummus with crackers or carrot sticks
Muesli bar slice
Fruit smoothie with oat milk
A slice of Anne's Autumn Loaf with tea
Soya yoghurt with granola
Handful of mixed seeds and nuts
Toast with peanut butter and sliced banana
Swap the animal protein in a meal to a plant-based source
A balanced plant-based diet can easily meet your protein needs. Combining different plant-based foods in the one meal (like beans and rice for example) is a great way to do this. Some plant-based protein sources you can swap to are:
Tofu or Tempeh (great in a curry or stir fry instead of chicken or red meat)
Quorn mince (swap out your minced meat in a lasagne or Bolognese)
Beans and pulses; chickpeas, kidney beans, black beans, mixed beans (use in a stew, curry or casserole instead of meat)
Lentils (add to soups, sauces or as the main ingredient in a "Lentil Dahl")
Plan ahead
In one survey (U.S based), 44% of people say that it's too much of an effort to buy plant-based foods (2). A good way to combat this is to plan out exactly what meals you are going to cook for the week ahead, versus cooking as you go along. Make a list of the ingredients needed for the week ahead and make sure you pick them up in your weekly shop. Stocking up on the likes of tinned beans, legumes and grains is a great way of ensuring you can whip something simple up without having to make multiple trips to the store. It also makes cooking meals from scratch a little easier when you have the
Batch cooking is also a great way of saving on time during the week when you're stuck for time or drained after a long day's work. Lentil dahl, vegetarian chilli or chickpea curry are all great options you can cook in large batches.
Get the family involved
If you're not just cooking for one, then why not get your partner or family involved too? If you are cooking two different meals at dinner time, the extra effort and time this will take is not going to be sustainable. Why not get everyone involved in meat free monday, introducing various plant-based foods to your children or partner. Perhaps your children can get involved in the cooking or helping to choose the dish.
One small change at a time
If you are used to eating meat or animal produce quite regularly, eliminating those products from your diet overnight won't be easy. That's why we suggest avoiding drastic changes that won't last in the long run. What you can do instead is:
Try one meat free day in the week
This may look like porridge topped with nuts, seeds and berries for breakfast, Mexican Bean Soup for lunch, and Vegetable Fried Rice for dinner. Check out our other recipes here for inspiration.
Once you have the hang of the above, why not try swapping out one meal a day? Choosing a plant-based lunch or breakfast.
Add more plant-based ingredients into your regular meals – for example, adding chickpeas into a soup or curry dish, adding extra vegetables like mushrooms into a tomato based sauce, or adding lentils into a spaghetti bolognese
References
1. Satija A, Hu FB. Plant-based diets and cardiovascular health. Trends in cardiovascular medicine. 2018 Oct 1;28(7):437-41.
2. Leiserowitz A, Ballew M, Rosenthal S, Semaan J. Climate change and the American diet. Yale Program on Climate Change Communication, New Haven. 2020.
3. Livestock – Climate Change's Forgotten Sector Global Public Opinion on Meat and Dairy Consumption, Chatham House, December 2014 https://www.chathamhouse.org/sites/files/chathamhouse/field/field_ document/20141203LivestockClimateChangeForgottenSectorBaileyFroggattWellesleyFinal.pdf
4. Poore J, Nemecek T. Reducing food's environmental impacts through producers and consumers. Science. 2018 Jun 1;360(6392):987-92.
5. Searchinger T, Waite R, Hanson C, Ranganathan J, Dumas P, Matthews E, Klirs C. Creating a sustainable food future: a menu of solutions to feed nearly 10 billion people by 2050. Final report. WRI; 2019.