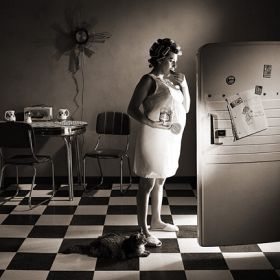 Ok, you've tried the method in Are you really hungry? to tell if you are really hungry or not and find that- yes, at certain times of the day you are just darned hungry before time! What do you do? If you are trying to cut down, it makes it very difficult to avoid eating over your requirements.
There are a few strategies to ward off hunger between meals. Firstly you need to consider if you are getting enough exercise, water and sleep as these will all have an impact on hunger. In fact, a paper recently published suggested that early morning exercise can reduce hunger cravings during the day. Sleep has a big impact on hunger and satiety hormones, as I discussed recently in Weight Watchers magazine. Thirst and dehydration can often be mistaken for hunger.
After you have considered the three, make sure you try to follow these tips to curb your hunger.
Ways to ward off hunger
Don't skip meals
Well it does make sense, doesn't it? Skipping meals, especially breakfast, can lead to frequent snacking, unhealthy eating behaviours and large portions at subsequent meals. It's quite important to keep an even keel with blood sugar levels. Regular meals and the right choices help this, and reduce hunger pangs/cravings.
Balance that plate
It's so important to make sure that your meals are balanced as lots of different macronutrients have a role in making you feel fuller for longer. A good balance includes some carbohydrate (low GI), protein and fibre. Foods high in fibre can play a part in helping us feel fuller for longer. Look for wholegrain breads and cereals, nuts, seeds, legumes, fruit and vegetables to include in your meals. Don't just push a salad around, make sure the balance is right.
Go low GI
Now you have your carbohydrates on the plate, make sure you include some low GI choices. Low GI foods tend to cause lower and more sustained rises in blood, keeping you feeling fuller and balancing and maintaining energy for longer. Your meals in the day should be low GI or at least contain low GI foods. It all helps.
Adequate protein
Poor old protein. There was a time when "dieters" were leaving out protein for fear of any added fat that might be with the protein containing food choice. This was a problem which led to the old "afternoon sweet run" phenomenon. In this phenomenon, inadequate protein at lunch leads to afternoon slumps, resulting in appetite changes leading to*hunger*. This in turn results in afternoon snacking on the wrong things – sugary drinks and snacks.
Protein is your new pal for reducing hunger. Protein signals fullness through its effects on various regulatory systems in the body, including metabolic signals, gut neuropeptides, digestive tract secretions, hormones such as ghrelin and PYY, and gastric motility. It also affects neural and satiety pathways in the brain. And you don't have to worry about the fat content, just make smart choices. You can find lean protein meat, chicken, dairy or fish sources or even try vegetarian options like lentils and pulses. Eggs are a good choice too. There are quite a few studies around which looks at the effect of eggs at breakfast or as a snack and the findings all suggest the addition of eggs, as the protein containing food of choice, helps reduce hunger between meals.
Mindful eating
How many of us wolf down a meal because we are in a hurry, or eat whilst working, watching television or on the computer? Taking the time to eat, register and enjoy your meals can have an impact on hunger levels later on. Let your body realise it's had a meal, give it time to acknowledge it's satisfied. Mindful eating is an important eating approach to ward off hunger between meals and to prevent overeating.
Low energy fill ups
If you just need a fill up, make sure it's something that will give you that feeling if fullness without adding lots of calories. Good choices include non starchy vegetables, vegetable soup, a hard boiled egg, glass of reduced fat milk…or you could try some of the ideas in what can I snack on when trying to lose weight?
Good luck….and please let me know if you have any more great low cal, filling food ideas to help keep hunger at bay.